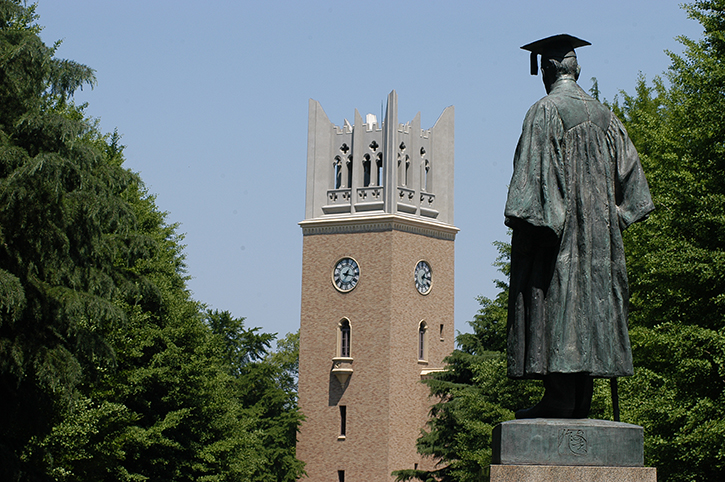 First established in early 1882, Waseda University, a top institution of higher education based in central Tokyo, has 50,000 students in 13 undergraduate and 20 postgraduate schools. It was founded on three principles: independence of scholarship, practical application of scholarship, and fostering of good citizenship. Waseda's mission is to build leaders, and it does, producing seven prime ministers and countless other leaders in government, business, journalism, science, literature, and the arts. Waseda is Japan's most global campus, with over 7000 international students from 120 countries and partnerships with over 800 prominent institutions in 80 countries.
Degree Programs in English
Students can obtain degrees in English in 7 undergraduate and 14 graduate schools with no Japanese language skills requirement. Students can learn Japanese after they arrive, in parallel to their major studies using English. Students can enjoy the many benefits of living in Tokyo, one of the most significant global cities, voted the world's safest, cleanest, most hospitable city, with the world's best public transport. It is also one of the world's top 3 cities for students. Waseda University offers over 120 different types of scholarships just for international students, including the pre-enrollment scholarship.
Exchange Student Programs
Since its establishment in 1882, Waseda University has been recognized as one of the leading academic institutions in Japan and the Asia-Pacific region. Today, thanks to solid partnerships with over 700 universities in 88 countries, we host more than 600 exchange students each year who are an integral part of our community to make the campus diverse and vibrant.
In addition to the Japanese Language Program, Waseda offers many English-taught programs in various disciplines, including political science, law, commerce, social sciences, international liberal studies, engineering, etc. Located in the heart of Tokyo, students have access to various attractions the capital offers, such as historical temples, skyscrapers, and electronics districts, all within 30 minute
Short-Term Exchange Student Programs
WASEDA SUMMER SESSION
From 2014, Waseda started a four-week summer session at the undergraduate level.
We welcomed highly motivated international students from 80 universities in 19 different countries and regions worldwide in 2018. Together with Waseda students, they thoroughly explored Waseda and Tokyo, consistently ranked high among the best cities to visit in the world.
You can take part in the courses that cover various interests, including business, culture, economics, history, literature and art, politics, and sociology in Japan and Asia. The courses are taught in English by experienced faculty members from Waseda and visiting professors from the top global universities. Japanese courses are optional.s.
Independent Scholarship
Center for International Education Support for International Students
Tuition and Aid
Support Systems for Exchange Students