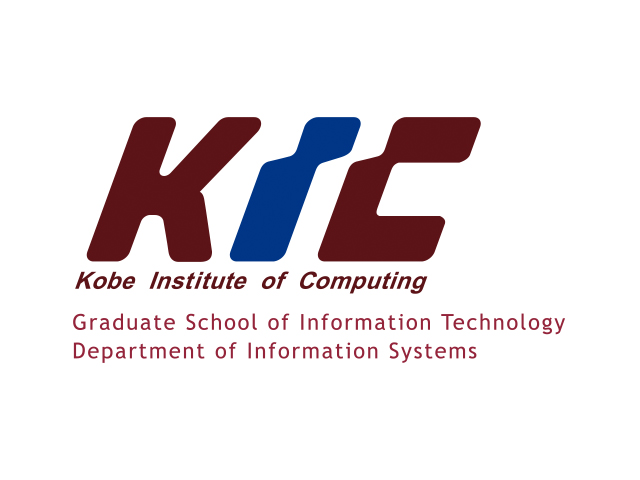 Kobe Institute of Computing
Kobe Institute of Computing (KIC), Graduate School of Information Technology is just a short walk from Sannomiya Station in the center of the beautiful city of Kobe. KIC introduces a program to produce 'work-ready' professional IT personnel who, regardless of their previous field of education or previous work experience, will be prepared for professional roles in the IT industry. The program curriculum is progressively structured in a way that proceeds from foundations to application & practice.
Kobe Institute of Computing (KIC) Graduate School of Information Technology
We foster highly motivated individuals who can work in various fields, including engineers to develop software, build information & communication networks, create embedded software, construct and design various information systems. KIC graduates are capable of development management as IT architects and project managers, and can contribute to international cooperation & social development through information communication technology (ICT).
Degree
Master of Science in Information Systems (professional)
Term of Study
2 years
Admission Capacity
55 students
Degree Programs in English
ICT Professional Course
ICT Professional course trains high level ICT human resources who can develop ICT systems and manage them. You can learn know-how and skills from the foundation to specialty in ICT field in 2 years regardless of what you did in undergraduate or in your business experiences. You can aim to be a "High Level Engineer" who can play an active part in companies (eg: ICT Specialist, ICT Architect ICT Project Manager etc.) and a "Business Leader" who can solve social problems using ICT. (eg: Business Innovator, Process Innovator, Social Innovator etc.)
ICT Innovator Course
ICT Innovator Course teaches practical ICT knowledge and technologies, along with professional & practical knowledge and real-world know-how related to ICT4D (ICT4D = social development using ICT).The course is aimed at students from developing countries as well as Japanese students intending to work overseas. After completing the program, students can expect to work not only for NPOs, public institutions and as social entrepreneurs at home and abroad, but can also find employment in global companies, to play an active role in a wide range of fields.
Part of a global community
External Exchanges
KIC is actively developing academic agreements and cooperation with various institutions both in Japan and overseas, in order to create a rich educational environment that promotes developing advanced ICT human resources, who can be successful internationally.
Diversity at KIC
Today's social issues are becoming more and more complicated. Basic knowledge and experiences are not enough to solve them. Currently, not only managers but also newcomers are required to gain advanced knowledge are they also need to improve their skills more to fit the current business system. A lot of graduate students from many countries have finished the Innovator course at KIC. They found valuable opportunities to work all over the world because of the knowledge piled at the course. If you need such skills, why don't you join it and improve your skills and learn more about computing? KIC's diversity must be the place in which you can achieve your ambitions. English is used on instruction and the guidance of the Innovator course. Of course, you will have a lot of opportunities to use other languages in which you are chatting with your classmates. Let's broaden your ICT knowledge with your classmates who have the same ambition at KIC.
Admission and Scholarships
We screen applicants through the results of written applications and oral examinations. Interviews may be scheduled on campus or via Skype or Zoom. They are 30 minutes and are conducted in English.
Among students enrolled with a visa status of "College Student" (limited to self-financed foreign students), for persons having difficulties with continuing their studies due to economic reasons, a certian amount of JPY can be exempted from the tuition of the first year as tuition assistance scholarship.
Student Support
Consultation on Mental Health
For students facing trouble in their life, we have established at the University a "student consultation office" where students can find advice for their worries. At the student counseling office, a professional counselor (clinical psychologist) is going to find clues to solve the students' problems. First, students can ask by mail for consultation, but it is also possible to consult directly in an interview with the counselor. Depending on the consultation contents and circumstances, the office is also responsible for the introduction of external agencies if necessary.
Dealing with Harassment
Our goal is to provide for each student and faculty with a psychologically and physically safe and comfortable environment, where they can devote themselves to study, research and work, and send a fulfilling campus life. For this reason, we have established guidelines for harassment prevention. In addition, students and faculty who feel having received harassment can consult at a "harassment consultation office", and we have established a system to give such issues immediate attention.