Hiroshima University is a national institution founded in 1949, incorporating many different institutions of higher education. The University has been growing ever since; adding new schools, research institutes, and centers. Today it is counted among the national universities and consists of 12 schools, 11 graduate schools, a research institute, research facilities, and affiliated hospitals. The University has approximately 11,000 undergraduate students and 4,500 graduate students currently enrolled, as well as around 1,900 international students from approximately 70 different countries.
Today, HU is making steady progress as a global university, taking on worldwide challenges and strengthening its global educational network by signing international exchange agreements with universities around the world and opening overseas bases at strategic locations.
Admission Guide | Hiroshima University
[Undergraduate]
School of Integrated Arts and Sciences, School of Letters, School of Education, School of Law, School of Economics, School of Science, School of Medicine, School of Dentistry, School of Pharmaceutical Sciences, School of Engineering, School of Applied Biological Science, School of Informatics and Data Science
[Graduate Schools]
Graduate School of Integrated Arts and Sciences, Graduate School of Letters, Graduate School of Education, Graduate School of Social Sciences, Graduate School of Science, Graduate School of Advanced Sciences of Matter, Graduate School of Engineering, Graduate School for International Development and Cooperation, Graduate School of Integrated Sciences for Life, Graduate School of Biomedical and Health Sciences, Hiroshima University Law School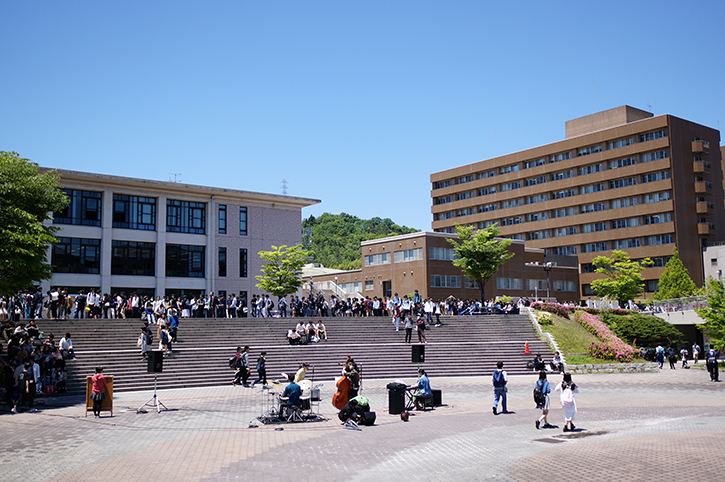 Degree Programs in English
In order to implement an education that is adapted to the accelerated globalization, Hiroshima University is introducing degree programs consisting of English-taught courses only at all its faculties by 2019. As of today we have 19 such degree programs.
For an example of the aforementioned degree programs, Hiroshima University has School of Integrated Arts and Sciences, Department of Integrated Global Studies (IGS) that provides liberal arts education integrating arts and sciences to offer students various approaches from cultural, social and natural sciences with the aim of developing solutions for the issues faced by the international community. The curriculum of IGS is composed of three main subjects: Culture and Tourism, Peace and Communication, and Environment and Society, all of which allow students to make a suitable study plan with the flexible courses according to each goals and interests.
School of Integrated Arts and Sciences,Department of Integrated Global Studies
Exchange Student Programs
Hiroshima University Study Abroad (HUSA) Program is a system based on university exchange agreements that offers undergraduate/graduate students learning and cross-cultural experiences as well as language courses. Students are able to attend the program while retaining their statuses at their home universities.
Short-Term Exchange Student Programs
Hiroshima University offers "Japanese Language and Culture Special Program (JLCSP)" intended for the students from other countries who are interested in Japanese language and culture, to provide them with opportunities to deepen their understanding of Japan and to give them a chance to consider of coming back to our university to study in the future. We offer lectures given by our academic personnel and extramural professionals to broaden students' knowledge of Japanese language and culture. In addition, there are opportunities to deepen their understanding of Japanese society and culture through a visit to Miyajima, a UNESCO world heritage site and Sake Breweries in Saijo, while learning the importance of peace through a visit to A-bomb Dome and Hiroshima Peace Memorial Park.
This program is also the key to develop mutual understanding with the people of other countries for both Japanese students at Hiroshima University and the program participants.
Independent Scholarship
Hiroshima University offers some special scholarship programs for international students.
International Students Supporters' Club Scholarship
Scholarship established with donations from individuals within and without Hiroshima University. Grantees are selected by inner selection from individual applications.
For more Details
Excellent Student Scholarship Program
Hiroshima University's scholarship program for outstanding graduate students in academic record and activities.
Prior to Admission Scholarship Program (HU-PASP)
Grantees will be selected from the students enrolled by pre-arrival admission system.
Support Systems for Exchange Students
Hiroshima University provides support for international students available through international student support member at each support office, and through academic adviser at each faculty and graduate school.
We also offer Supporter System which is designed for peer student supporters to give newly arrived international students peer-to-peer extracurricular assistance such as opening bank accounts and processing the necessary procedures at the city hall.
At the Morito Institute of Global Higher Education, we propel international exchange activities as well as promote campus globalization, thus enhancing Japanese language and culture education within and outside the university.
Moreover, Hiroshima University established International Student Support Network consisting of faculty and staff who are in charge of international student support. This system handles various consultations related to, for example, academic work, accommodation, harassment, health issue (injury, disease, mental health, etc.), and employment.