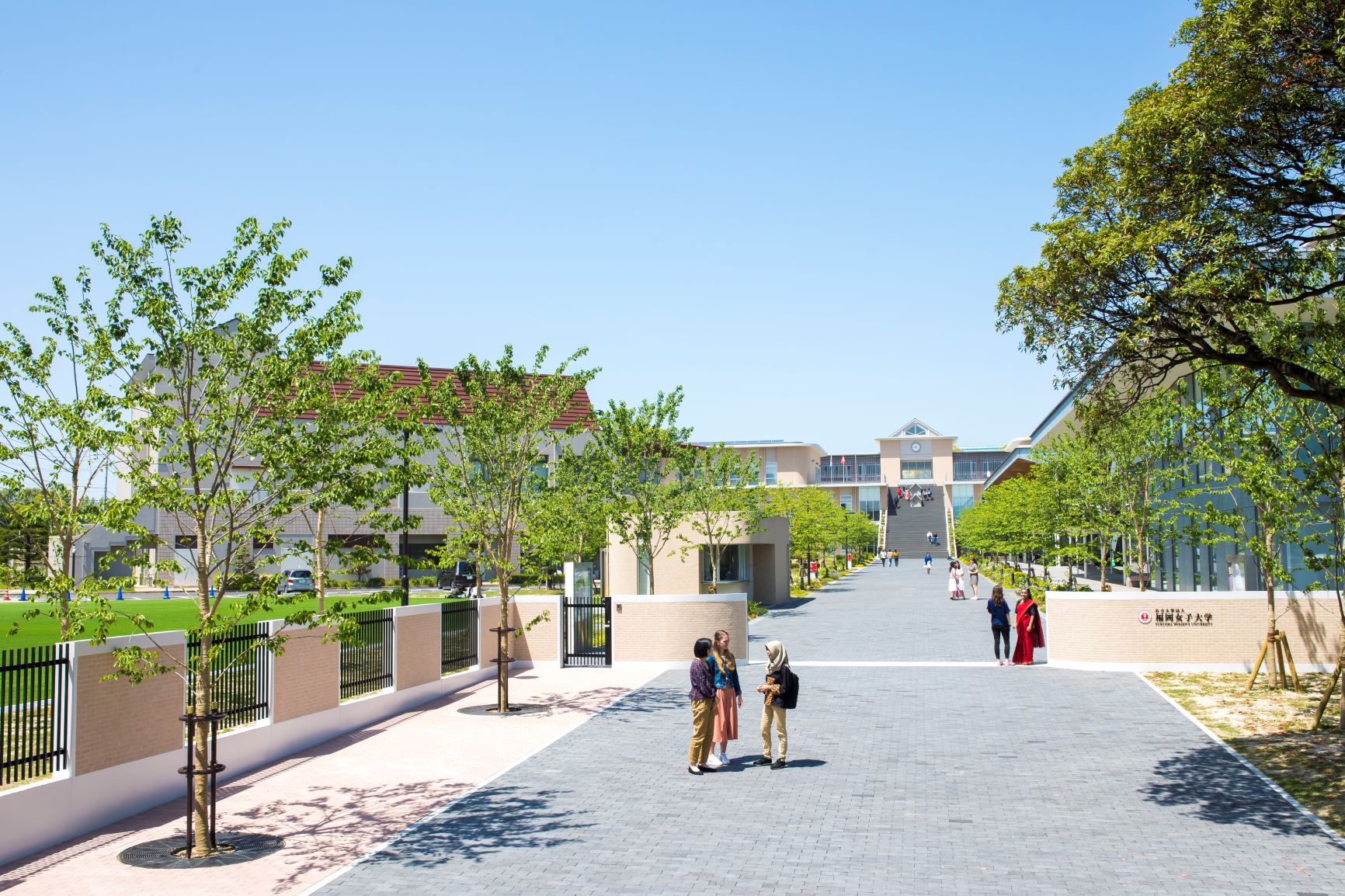 Fukuoka Women's University
FWU was established in 1923 as the first public college for women in Japan. Students pursue their ambitions in the areas of international liberal arts, environmental science, and food and health Sciences. FWU is an internationally focused university. With a student population of about 1,100, we strive to provide every student with an opportunity to experience cross-cultural and international exchange activities. In view of the importance of developing globally-minded leaders, we are collaborating with high-quality institutions worldwide to expand the scope of our educational activities. FWU is placed among Japan's top three women's universities in the THE Japan University Rankings, receiving a high evaluation of our international learning environment and student satisfaction.
Undergraduate Overview
At the International College of Arts and Sciences, educational research takes place in an integrated way from the perspective of international coexistence to cope with a variety of problems that modern globalizing society faces. In order to provide solutions to these problems, the three disciplines of humanities, sociology and natural sciences were put together into one broad academic field of study.
The three departments "Department of International Liberal Arts", "Department of Environmental Science" and "Department of Food and Health Sciences" were established in order to understand global society and comprehend and solve problems related to food and health as well as environmental problems from the level of our daily lives right up to the global level. We are aiming at educating people so as to give them a sound judgment and ample knowledge to face flexibly the changes of times or society, to give them flexible adaptability, and from an Asian or global perspective enable them to contribute to making an even better society, not only here in Japan but also in overseas countries or areas.
Graduate Overview
Fukuoka Women's University (FWU), founded in 1923, is one of the oldest public universities for women in Japan. Since then, according to the university's philosophy of fostering the next generation of female leaders, we have continuously reformed the existing faculties and graduate schools in harmony with current social and educational needs. The Faculty of International Arts and Sciences was recently founded in keeping with our policy of internationalization, and in April 2015, our new graduate schools were opened, offering three different programs, as follows:
(1)Graduate School of Humanities and Social Sciences
* Master's Program of Language and Culture
* Master's Program of Social Sciences
(2)Graduate School of Health and Environmental Sciences.
* Master's Program of Health and Environmental Sciences
(3)Graduate School of Letters
* PhD Program of English Language and Literature
Study Abroad and Exchange (Incoming)
FWU is engaged in international education through various incoming study abroad and exchange programs. We offer four programs as follows.
WJC: The World of Japanese Contemporary Culture Program
WJC is a short-term study abroad program designed to provide a unique educational experience focusing on Japanese culture and society. Its medium of instruction is English. Students have the choice to attend the program either for one semester or for a full year. The curriculum for the Fall Semester (September-February) focuses more on Japanese contemporary culture, while the Spring Semester (April-August) offers more subjects relating to Japanese traditional culture. Japanese language classes are available at various levels and students are able to take classes depending on their level.
Student Exchange Program (studying in Japanese)
FWU welcomes exchange students from our overseas partner universities. You can stay for one semester or a full academic year, to study from a range of modules taught on our undergraduate and graduate programs. (All courses are taught in Japanese.) Further information for exchange students at FWU, please contact an office for study abroad at your home university.
Campus Life
International Friendship House NADESHIKO
All the first year students are, with the assistance of "Floor leaders" or "Nadeshiko mates", to reside in the International Friendship House NADESHIKO. Through this boarding school system that they live together with their peers and overseas students, they learn how to build good relationships, intercultural understanding and foreign language communication skills. They are also immersed in diverse perspectives and ways of thinking, and can spend an exciting day-to-day life. By providing the students with a variety of experiences and exchanges, FWU continues to foster highly motivated and skilled women.
International Friendship House NADESHIKO
Campus Tour with 360°Video
Campus Tour with 360°Video